Grip Srut Safety Grating
Sold Locally in Greeley, Colorado & Delivered to Surrounding Areas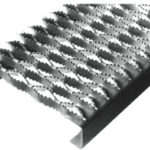 Our grip strut is a great product to use for non-slip walkways and stair treads. Also known as Safety Grating is a high strength lightweight galvanized steel grating designed for safety underfoot. The unique one-piece diamond-shaped construction provides slip resistance in all directions. Grip Strut is ideally suited for all walking/working surfaces where mud, ice, snow, grease, and oil create slippery or hazardous conditions.
Product Description
Grip Strut is a one-piece metal plank-type grating manufactured by a cold forming process in the shape of a channel. The web of the channel is the walking surface and has rough serrated edges around diamond shaped openings. Diamond openings are complete with radiused corners at the saddle and side channel locations.
Features & Benefits
Serrated edges around diamond shaped openings provide slip resistance under slippery conditions such as snow, ice, grease, oil, etc.
Radiused corners reduce possibility of stress cracks across saddles or at side channels under various loading conditions.
Self=cleaning due to resilience of walking surface.
One-piece metal construction.
Light-weight design provides high strength to weight ratio.
Long life span requiring little maintenance.
Simple and economical installation as planks are self-framing.
Adaptable to cost effective custom fabrication.
Can be easily formed in standard channel or custom shapes.
Grip Struts
| Channel Width | Return Flange | Diamond to Outside |
| --- | --- | --- |
| A | B | C |
| 4 3/4″ | 7/8″ | 9/32″ |
| 7″ | 1″ | 1/4″ |
| 9 1/2″ | 7/8″ | 11/32″ |
| 11 3/4″ | 1″ | 11/32″ |
| 18 3/4″ | 1″ | 11/32″ |
| 24″ | 1 1/8″ | 11/32″ |